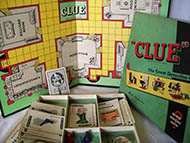 CLUE Returns to Kelleys Island
Our series of Clue-themed mysteries returns to Kelleys Island October 13-14, 2017 with "Professor Plum and the Deadly Cipher.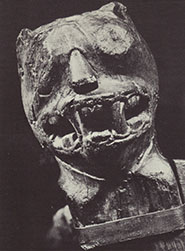 New Veteran Problem
This little gem has been making an appearance at our mysteries for over a year now. Denham believes it inspired a monster on the old TV series The Outer Limits. What is it? 1,000 Bonus Points await.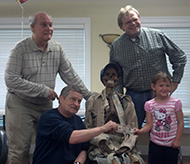 Junior Detective
Karl (the Uncanny) Erbland (l), Denham, Joe, and Dennis Baylor pose with our newest Junior Detective First Class, 5-year old Marianna Banjoff after she secretly acquired a crucial piece of evidence at the close of Deadly Harvest on Kelleys Island.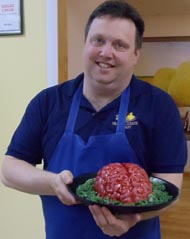 Seaside Cheese & Brains
Zombies and Carnivorous Plants?
Midnight Garden of the Living Dead" at Ravenwood Castle, Sep. 8-9, 2017, will combine two of Denham's favorite creepy themes.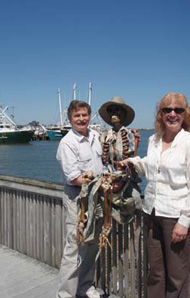 We're Back!
Those twisted but lovable folks from Shadow Stalkers are back on the mystery trail! Sherlock Holmes had a three year "Great Hiatus" in the middle of his career and that nice Mr. Denham has followed in his footsteps.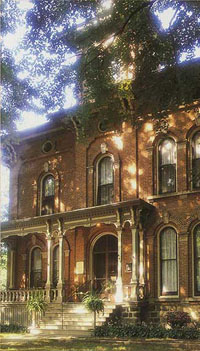 Where it all started
Welcome to Shadow Stalkers!
If you've ever wanted to really investigate a murder rather than listen to actors delivering dialogue . . . if you've wanted to weave between dinner guests on a mission to obtain fingerprints . . . to explore an entire island looking for clues and scavenger hunt items . . . to play a game where the killers were playing too and might be stalking you right now . . . welcome to the world of Shadow Stalkers!

We began with a single flash of inspiration in the mind of a mystery guest more than 20 years ago and that idea has led to two decades of locked trunks, invisible ink, fingerprints, secret codes, torn maps and lost diamonds. Retired for two years so that nice Mr. Denham could finish writing his first book, the codes and ciphers have now been unpacked and dusted off and it's show time again, ladies and gentlemen.

In a recent development that nice Mr. Denham decided to retire once again, this time for good, so he could concentrate on writing and game design. Then Jim and Pam Reed, owners of Ravenwood Castle, twisted his arm and bopped him in the head. The result is that our mysteries are moving into new themes such as Harry Potter, Game of Thrones, Steampunk and Doctor Who to name just a few and we'll be hosting a much expanded schedule at Ravenwood in 2015. What a world, what a world!

We're still putting our guests through their paces each October at Kelleys Island Venture Resort in Ohio and past clients include Cedar Point Amusement Park, the Victorian Villa Inn, Captain Montague's B&B and the American Heart Association as well as Denham's favorite B&B's in his adopted home town, Cape May, New Jersey.

We have also designed team building adventures for Pillsbury, CenturyTel, Pepperidge Farms and the wonderful people working in Children's Services in Ohio. It's been quite a journey and our recent efforts have taken all We learned in that first 20 years and molded it into new directions such as Cape May's War of the Worlds where invading Martians struggled against Earthling defenders.

We have never stopped growing or exploring new problems and ideas . . . and we don't intend to. In Denham's Night of the Living Dead--Disguise for Murder the guests who arrived as zombies kept biting our humans and expanding their number. If you've ever been caught in the middle of a zombie outbreak you know how harrowing it can be. All our productions are custom cut to fit the location and theme and Rule Number One at all Shadow Stalker events is "You are here to have FUN. If you are not having as much fun as you possibly can, you are in violation of this rule!"

Everything else we do descends from that.